American History Alive! The Early 1800s
Come face-to-face with famous Americans in American History Alive- The Early 1800s!  Meet Alexander Hamilton, Sacegewea, Rosalie, President John Tyler, Francis Scott Key, Frederick Douglas, and Dolley Madison. The American History Alive! series is a one-of-a-kind, weekly rendez-vous with key figures in American History. These characters are brought to life for students though engaging presentations by professional, costumed, living history interpreters. Students will connect faces, personalities, humor, and fun facts with influential characters in America's history!
Living history interpreters are the professionals employed by museums, historical sites, and conferences. They have typically studied their historical character for years and tell their stories and contributions in a compelling first-person narrative. Presentations are conversational in style, often involve the audience, and conclude with spontaneous audience Q & A. Watch the historical actors answer 21st century questions in character with period replies! Children younger than 3rd grade must register with a paid adult.


10/25/17: Alexander Hamilton as portrayed by Ian Rose of Philadelphia. Mr. Rose has been portraying Alexander Hamilton for ten years and interpreting other historical figures since 1994. Ian's appearances as Hamilton have taken him to the Richard Nixon Presidential Library, the State Department, the Newseum, the National Archives in Washington, D.C., The National Constitution Center, Valley Forge, and dozens of other educational and historical sites. Ian has appeared as General Hamilton in the television documentaries "Faith and the Founding Fathers", "Rediscovering Alexander Hamilton", "First Freedom", and "Fractured Union" for Mount Vernon. He is also a veteran of television commercials, off-Broadway shows and Shakespeare festivals. Ian is a certified fight director and instructor with the Society of American Fight Directors and Fight Directors of Canada.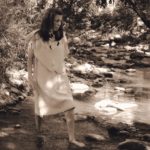 11/1/17: Sacegewea as portrayed by Mary Dailey of Ronceverte, WV. Mary portrays Sacegewea, the Shoshone teen who accompanied Lewis and Clark on their famous 1804 expedition. The expedition, known as the Corps of Discovery, included Sacegewea's  French-Canadian hunter-trapper husband Charbonneau to whom she had been sold for marriage. When Mary learned the story of this brave, young native American woman, she became interested and compelled researched her story further, ultimately deciding that living history was the best way to share the story of Sacegewea. Mary began to portray Sacegewea though the History Alive program of the West Virginia Humanities Council. She has brought the saga of Sacegewea alive at historic sites, festivals, schools, and libraries.


11/8/17: Rosalie Calvert of Riversdale as portrayed by Mary Ann Jung of Annapolis. Ms. Jung has won top honors from the Maryland State Arts Council. She performs most frequently in schools, libraries, and museums including the National Theatre of Washington, Smithsonian, the Folger Shakespeare Library, Port Discovery Children's Museum, and the National Museum of Civil War Medicine. She has also appeared on CNN, the Today Show, and Good Morning America. Mary Ann last appeared at Compass in spring 2016 as Amelia Earhart.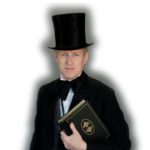 11/15/17: President John Tyler as portrayed portrayed by Dick Cheatham of Richmond. Mr. Cheatham combines his background in history and education to portray John Rolfe, husband of Pocahontas and savior of the English Jamestown Colony. Mr. Cheatham has been involved with Living History portrayals for 21 years and is the founder of Living History Associates, Ltd. of Richmond. He has appeared on the BBC, the Learning Channel, several PBS series, Entertainment Tonight and the Voice of America. Mr. Cheatham last performed at Compass in September 2017 as John Rolfe.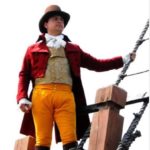 11/29/17: Francis Scott Key as portrayed by Charles Wissinger of Richmond. Mr. Wissinger serves as the casting director and coordinator for a team of historical reenactors and interpreters. He is a professional actor with a BA in Theatrical and Performing Arts, and his experience spans stage, film, television, and commercials including appearances on the American Heroes Channel, the Military Channel, and the History Channel as well as historical sites, national parks, and special events. Mr. Wissinger combines his talent for acting with his love of history in this research and interpretation of historical figures. Charles last appeared at Compass in September 2017 as Patrick Henry.


12/6/17: Frederick Douglass as portrayed by Bill Grimmette of Baltimore, Maryland. Mr. Grimmette has been giving living history portrayals of Douglass since 1992 when he got his start at the Kennedy Center and the Smithsonian. He has appeared as Douglass throughout the United States, abroad, and on National Public Radio. Bill last appeared at Compass as Douglass in September 2015 and as Dr. Martin Luther King in March 2016.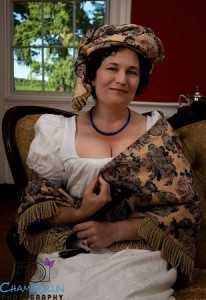 12/13/17: Dolley Madison as portrayed by Dr. Lynn Uzzell of Fishersville, VA. Dr. Uzzell has been portraying Dolley Madison since 2010 at Montpelier, the historic home of the Madisons. She currently holds the chair as scholar-in-residence at Montpelier. Dr. Uzzell earned a B.A. in speech communications at Black Hills State University, and her M.A. and Ph.D. in politics at the University of Dallas. Her doctoral dissertation explored the debates at the Constitutional Convention of 1787.  She serves as a senior editor for ConText, an online resource for James Madison's Notes of the Constitutional Convention. It was her expertise on the Madison notes and the Constitutional Convention that drew her to the character of Dolley Madison as a voice for connecting these important pieces of history to modern audiences. Dr. Uzzell has taught courses in Political Philosophy, the American Political Tradition, American Rhetoric, and Leadership and the Humanities at Baylor University, the University of Virginia, and the University of Richmond. Lynn last appeared at Compass in October 2014.

Register for American History Alive! and all other Compass classes online! For third quarter, watch for visits from Abraham Lincoln, Gen. and Mrs. Ulysses S. Grant, General Robert E. Lee, Stonewall Jackson, Harriet Tubman, Mark Twain, Susan B. Anthony, and Clara Barton,