Junior Spelling Bee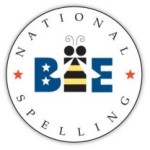 Beginning spellers are encouraged to join us for the annual Junior Spelling Bee which is a friendly, low-pressure, first-time bee for children who love words and reading. The top two spellers from the Junior Bee will be invited to participate in the Compass Senior Spelling Bee. The Junior Spelling Bee is open to area homeschoolers regardless of whether or not they take classes at Compass. See eligibility and details below:
General Bee Details
The Junior Bee is held in early February each year. See announcements and annual registration details for the exact date.
The bee begins at 4:30 pm, but participants are asked to gather at 4:15 pm to check in. The ending time will vary based on number of participants but it usually concluded between 5:00 – 5:30 pm
The bee is held at Compass.
Registration opens November 1 through the Compass Store
Entry fees are collected to offset the cost of school registration and administration. The cost is $10.00 for a Compass students and $15.00 for non-Compass students. (*A Compass student is one who has been enrolled in at least one Compass class in the current school year.)
Bee Eligibility
The Junior Bee is for homeschooled students under age 9. Students who have reached their 9th birthday by the time of the bee will be re-registered for the Senior Spelling Bee.
This contest is open to all homeschooled students from northern Virginia, regardless of whether or not they take classes at Compass!
This contest is also open to Compass students* who reside in Maryland, West Virginia, and/or Washington DC. Homeschooled students from these areas who do not attend Compass classes cannot be accommodated and are encouraged to find or organize bees in their own area.
A student may compete in only one local Scripps bee and cannot "shop" around by participating in more than one homeschool spelling bee.
Students who are enrolled in private schools cannot be accommodated in this bee.
Format
The contest will be oral questions and responses following the format, rules, and guidelines of the national Scripps Spelling Bee program.
Participants
All Compass participants will receive a certificate and small token. The top two spellers will receive a certificate, small token, and a medal.
More Information:
An optional "Bee Basics" information session will be held at Compass for first time participants and their parents on the first Wednesday in February at 9:00 am.
Practice Suggestions:
All registered participants will receive an e-mail with practice words lists.
Visit spelling practice websites such as Word Central and Spell It
Watch YouTube videos (with your parents) YouTube videos of past national spelling bees
Watch bee-related movies (with your parents) bee-themed movies such as Spellbound or Akeelah and the Bee.
Read!