Compass Fall Class Schedule is Posted! Early Registration Opens May 16
Great news! The Compass Schedule of Fall Classes is now complete! Early Registration begins next week on Tuesday, May 16 at 6:00 am. A 10% discount is offered through June 30. Registration includes 1st quarter classes (7 weeks), 1st semester high school classes (13-14 weeks), and year-long high school classes (30 weeks). Classes begin September 5, 2023.
Join Compass for our 12th year! We are continuing to innovate and create more opportunities. New families are welcome to enroll. More than 200 classes are offered a-la-carte for homeschooled students in PreK – 12th grade, in math, science, engineering, technology, history, humanities, civics, writing, English, Latin, French, Spanish, Mandarin, ASL, art, music, drama, cooking, chess, fitness, fencing, career exploration and more! Be sure to check all five days of Compass's Monday – Friday schedule.
What's New Next Year?
Partial List of All-New Classes: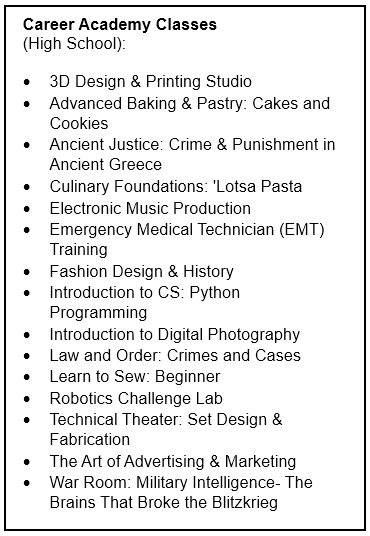 Breakfast Table: Daybreak Dishes
Comparative World Religions
Comprehension Connections: Critical Thinking Through Short Stories
Creating and Curating a Personal, Digital Portfolio **Online**
Creative Journaling
Detective Drama: The Case of the Missing Crown
Drawing for Fun: Comic Art & Characters
Dynamic Dioramas: Biome Builders- Tropics (The Rainforest)
Fashionable Foundations: Historical Corsets – 18th Century
FUNctional Fitness and Cross-Training (PE)
Game Maker: Board Game Design
Geography through Games- Early Civilizations
Global Gourmet: Italian Cooking
History of Rock-N-Roll: The British Invasion
Jiu Jitsu Fit
Kinder Kitchen: Fun Foods
Latin I
Marvelous Myths and Mythical Marvels: Ancient Egypt
Physical Science
Practical Math for Real Life
Rhetoric and Reasoning through Written Works: A Course in Critical Thinking
Road to the White House: Presidential Reflections
Take Flight! Elements of Aeronautical Engineering
Take Flight! Fundamentals of Aviation & Aircraft
The Art of Storytelling: A Creative Writing Workshop
Vet 'Ventures: Cat (Feline) Doctor
Zen Teens
Special Programs:
Lunch-N-Learn…Register online for supervised lunch hour/study hall (ages 8-12)
Private Music Lessons…Register online for your block of private1st quarter music lessons in voice, piano, ukulele, clarinet, flute, guitar, drums,
Compass Kindergarten…Choose Mon, Wed, or Fri for 3-hour "taste of kindergarten" program
Eureka Math: A Complete Curriculum…complete math program for 4th or 5th grade, 2 class days per week.
Reading Rally: A Complete Language Arts…5 levels offered, complete language arts curriculum
Pre-College Art Portfolio Studio- Drawing and Oil Painting…for high school juniors, seniors wanting to create their college art portfolio.
Characters Club…afterschool club with dress-up, music, and dance games for 1st-4th grade
Extra, Extra! Non Fiction News-Writing…student newspaper program guided by an adviser
Homeschool String Ensemble…small group ensemble for violin, viola, cello, and bass, grades 4-8
Ballet Fun/ Ballet Foundations: Peter & the Wolf…2 levels of homeschool ballet. Partnership with Alchemy Ballet Studio (0.3 miles from Compass)
Homeschool Swimming…5 levels, 2 days per week. Partnership with Reston YMCA (0.9 miles from Compass)
Also, ask us about Private Lessons and Individual Instruction that you can schedule before, after, and between classes in math, reading, writing, science, foreign languages, chess, and more.
Three High School Information Sessions are scheduled before registration opens. Watch for additional, all-aged upcoming Open Houses. See the Compass website for more information on community events, special programs, extracurricular clubs, homeschool resources, and more. Review our Family Handbook online for questions on registration, age/grade placement, refunds, and more. Contact us with any questions!