Compass Store
Thank you for visiting the Compass Store. The store is used for purchases of admission/entry fees to special events, registration for academic clubs and contests, magazine subscriptions, school supplies, Compass merchandise, and more. All store items are non-refundable.
Spring SpiritWear Sale!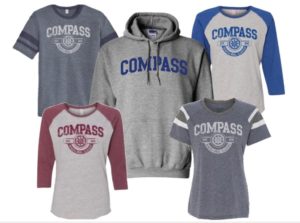 Spring sales of SpiritWear have ended. Check back in the fall for shirts and hoodies in vintage and traditional designs, youth and adult sizes, and women's and men's cuts in high quality, branded shirts, with multiple color choices.
Event & Activity Fees/Magazine Subscriptions
| | Image | Product | Grade Range | Ordered | Price | Link | Description |
| --- | --- | --- | --- | --- | --- | --- | --- |
| | | Store Merchandise- Embroidered Patch | | 1 | $5.00 | Add | Great for tote bags, backpacks, scouts, or as a keepsake. 3" diameter, full color embroidered patch with iron-on backing. Sold at the Compass Front Desk for $3.50. Purchase online for $5.00 to include shipping and handling. |
| | | Entry Fee: Quads Chess Tournament (5/30/19) | 1st - 10th | 6 | $12.00 | Add | This is the entry fee for the Annual Compass Homeschool Quad Chess Tournament. The event is open to any homeschooled chess player, age 6-16. The tournament will be held in Picnic Shelter A at Nottoway Park in Vienna right before the annual Compass family picnic and field day. The tournaments will begin at 9:30 am. Students must arrive by 9:15 am to sign in and be placed in quad groups. The tournament will end approximately 12:30 pm, with a brief awards ceremony at the end. Participants will receive a certificate, and quad winners will receive medals. |
| | | Store Merchandise- Compass Cooks! Cookbook | | 2 | $13.00 | Add | This is a compilation of 14 quarters of recipes from the Compass cooking classes lead by Mimi Nyman. This is a collection of more than 130 recipes that are family friendly and kid-tested! This book makes a nice memento from your child's experience in cooking class or a thoughtful gift. All proceeds from the sale of these cookbooks will be donated to a local food bank to help feed others in our community. Sold at the Compass Front Desk for $9.00. Purchase online for $13.00 to include shipping and handling. |