Fall is Here! Consider Compass Classes in Your Homeschool Plan!
Fall has officially begun! Do you have your homeschooling year figured out? Compass classes begin next week on Wednesday, September 10, and registrations are still being accepted!
If you have some gaps in your curriculum, want to incorporate an outside class, or are looking for a few more social interactions, please consider Compass classes! Compass classes are taught on Wednesdays in Oakton for students in Kindergarten-9th grade.
27 classes still have spaces remaining, but 14 of those have just 1 or 2 seats left! Following is a partial list of open classes. See the website for the complete list of classes:
American History Alive!- the 1700s (3rd -adult)
RunFit Kidz (2nd – adult)
Djembe Drum Jam (2nd-5th)
Mock Trial Prep: Arguing Your Case (7th-9th)
Learn to Sing: Compass Choristers (4th-8th)
Acting Out Stories (K – 2nd)
Music Makers: Rhythms (1st-3rd)
Kids' Fab Shop (1st-2nd)
Spanish Conversation for Kids (3rd-5th)
U.S. Citizenship: Requirements, Rights, and Responsibilities (7th – 9th)
….and more!
You may see an opening in a class that was previously full. In the final weeks before fall, we get some openings when friends decide to enroll in school or plan to move away. Classes that do not have wait lists are opened back up for public registration. The best way to know when an opening crops up is to watch and like the Compass Facebook page!
See the website for more information about the Compass community, class descriptions, our flexible age/grade policy, instructor profiles, class fees, and full integrated online registration. Compass accepts payment by cash, personal check, bank-issued check, credit card, or PayPal.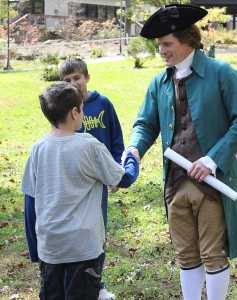 Students met Thomas Jefferson at Compass as part of American History Alive in Fall 2012! This unique program returns this fall at 10:00 am each Wednesday!