Educational Toy and Game Sale at Compass this Wed. Nov. 13
Just in time for the holidays! A giant educational toy and game sale will be held at Compass this Wednesday, November 13! This sale is open to all homeschool families.
The Toy Corner of Oakton will have dozens of toys, puzzles, games, kits, and sets for sale in the Compass lobby from 10:00 am – 2:00 pm.
Special Compass Promotion: 10% off
Discount applies to purchases made at the Compass sale. Cash, check and credit cards accepted. VA sales tax will be collected.
Look for science kits, arts & crafts sets, project packs, logic & strategy games, construction sets, imaginative play, card games, robotics, microscopes, and more from favorite educational toy manufacturers such as:
Lego
ThinkFun
Brio
Professor Noggin
Alex
Smart Games
Ravensburger
MindWare
Safari Ltd
Smithsonia
Kumon
and others!

In addition, homeschool parent Andrea Scurlock, will be exhibiting the board game Medieval Alliance that her family developed, produced, and sells through their company, Jett Educational Games. Medieval Alliance is a board game with mission cards that guide a middle ages knight through challenges as he seeks to create alliances. The game teaches aspects of art, music, literature, science, medicine, law government, trade, daily life, and more! Additional information is available about Medieval Alliance on the Jett Educational website.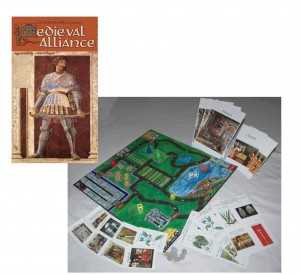 Location: 2705 Hunter Mill Road, Oakton, VA 22124