Complete Your Profile Before Registration Tomorrow!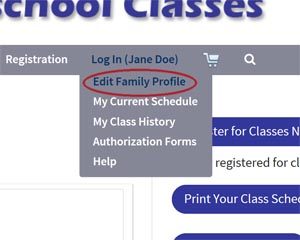 There is an IMPORTANT new feature on the Compass website that will make tomorrow's class registration MUCH EASIER!
In late August, Compass Family Profiles were introduced on the Compass website. The profile is where your family information is saved so you don't have to enter it again at registration check-out! To simplify registration, log in and verify your family profile today!
Login to Edit your Family Profile before registration to make sure all information is complete. When your Family Profile is complete, registration for classes is as simple as adding classes to your cart and checking which child is taking which class. When you have a complete Family Profile online, you will no longer be asked for address, phone number, emergency contact, child's age or child's grade. Select your classes, confirm, and move directly to the payment step! Also, when you have a complete Family Profile, you only have to read and accept "the fine print" one time!
Registering for Classes is Faster with a Compass  Family Profile!

So log in TODAY and verify your family's information on 4 tabs of the Edit Family Profile page:
Account Info: parent's name, e-mail, and required agreements/waivers;
Student Info: child's first and last name, optional student e-mail (for teens), grade and birthdate. This is also the tab where you can add additional children.
Contact Info: your address and phone number(s);
Emergency Info: name, relationship, and phone number of someone other than the registering parent to contact in case of emergency.
When you are logged into the system, you can also fill out Parent Proxy and Teen Drop Off Forms.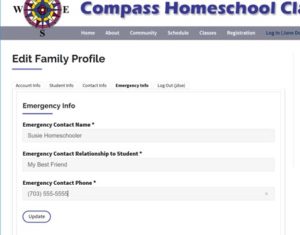 Have an Account, But Never Logged In? If you have never logged into your profile, go to the Edit Family Profile page (or choose "Log In" from the main menu bar). If you have an account, enter your email and password in the form at the right side of the page.
Forgot Your Password? If you have an account, but do not remember your password, click the "Forgot?" tab and enter your email address to reset your password. You will receive an email with a link to reset your password, and then you can log in to edit your profile.
No Account?  Or if you were not registered 1st quarter: Even if your child took classes at Compass in the past, if he/she was not registered first quarter, Fall 2017, your Compass Family Profile was not automatically created for you.  Starting from the "Log In" link or the Edit Family Profile page, Click the "Register" tab above the login form, and choose a username and enter your email address.  Be sure to use the same email address you have used in the past to register for Compass Classes if you want your registration history to be restored.  
Don't Want a Profile? You can still register for classes even if you don't want to set up a Family Profile. If this is the case, you can register by adding classes to the cart and filling out all information fields when checking out, just as in the past.  Registering for classes as a guest will NOT automatically create a Family Profile for you.  If you want the benefits of a Family Profile, you must create it BEFORE registering for classes. Keep in mind that we do not store any payment details in your profile, just your family preferences and class registration details.
If you have any other questions about the new Compass Family Profiles, see the Family Profile Help page at  https://www.compassclasses.com/family-profile-help/