Compass Welcomes Albert Einstein this Week!
Albert Einstein comes to Compass this Wednesday, November 4, as part of the final quarter of American History Alive!  Marc Spiegel of Washington DC gives a warm, vivid and uncannily realistic portrayal of Albert Einstein which appeals to children and adults of all ages. Marc's Einstein Alive is dynamic performance that blends science, history and entertainment. The show is a fun and engaging way to introduce physics concepts in a an approachable way that will interest elementary and middle school students (and the adults in the audience) as well. Professor Einstein speaks about his life and contributions to science.
Exciting on-stage demonstrations with student volunteers
Unforgettable sing-alongs featuring fundamental physics concepts
A show full of spontaneity and humor followed by a hilarious Q & A
Students as will learn concepts such as:
What the term 'relative' means
How relativity relates to motion
How things move and what friction is
The significance of the speed of light
What is electromagnetic radiation
What is special about the Special Theory of Relativity
Students may quiz Einstein as he answers both "reasonable & unreasonable questions." On online review said, "Einstein is informative, friendly and always entertaining!  The program teaches…how things move; what relative means and how it relates to motion; what is matter & energy and how they are connected; what is a frame of reference and why it is so important; and an introduction to the Theory of Relativity. It is incredible how much action, fun and learning takes place in so little time!!"
Watch the following video clips to hear how Einstein fields tough questions such as, 'Did You Make the Atomic Bomb?', 'Is Time Travel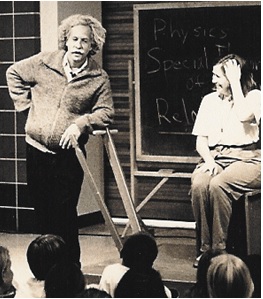 Possible', and more!
A study guide is available for anyone who wants to read more about Einstein before the shows. Einstein will be available for photographs after the performance.
One day passes are available to see the Einstein Alive program. Passes can be purchased online or in person for $20.00/each.
The program will be held at 12:00 pm at 2705 Hunter Mill Road in Oakton on the Compass campus.