Announcing: Medieval Masquerade and Fall Faire at Compass
Wednesday, October 29
4:30 – 7:30 pm
Bring your whole family out to enjoy a homeschool Medieval Masquerade and Fall Faire at Compass! Explore medieval history, culture, and folklore. Dress up in a safe, family-friendly venue, and enjoy hot cider on a cool crisp, autumn evening before settling down to listen to homeschoolers' favorite storyteller, Jim Weiss. Tickets are now on sale for this event through the Compass Store or in person during Wednesday classes.  The Medieval Masquerade and Fall Faire has something for everyone: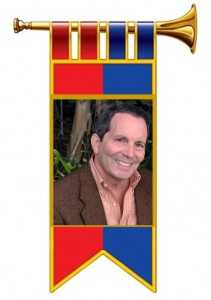 Nationally acclaimed storyteller Jim Weiss will enthrall audiences with the tales of King Arthur, the adventures of Robin Hood, and other family favorites! Jim has been a storyteller for over 25 years, and his shared his passion through his production company, Greathall Productions. Jim has produced forty-eight (48) recordings that encompass a wide range of classic literature and folk tales. He brings literary and historical characters to life with his warm and enchanting storytelling style. Jim travels extensively throughout the United States and is a favorite among homeschool families. He frequently gives live performances at conferences and community events. He has received more than 100+ major national awards from the American Library Association, Parents' Choice Foundation, NAPPA, the Parents' Council, the Oppenheim Toy Portfolio, the Film Advisory Board, Parents' Guide to Children's Media Award and more. Jim's recorded works will be on sale in the Compass lobby, and he will autograph purchases! He will begin telling stories at 6:15 pm.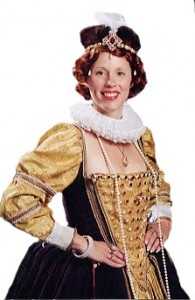 Hold court with Queen Elizabeth I. As the monarch who marked the end of the medieval era in England, Queen Elizabeth I will engage audiences with lessons in court etiquette such as how to bow and curtsy and steps from her favorite dance, the French Galliard. She will describe food in medieval England and favorite pastimes in this charming, witty performance filled with audience participation. Mary Ann Jung of Annapolis brings Queen Elizabeth I to life as part of her living history portrayals. She has performed at schools, libraries, and museums including the National Theatre of Washington, Smithsonian, the Folger Shakespeare Library, Port Discovery Children's Museum, and the National Museum of Civil War Medicine. She has also appeared on CNN, the Today Show, and Good Morning America. Mary Ann has visited Compass in previous years as Clara Barton, Rosie the Riveter, and Amelia Earhart. Audiences at 4:45 and 5:30 pm.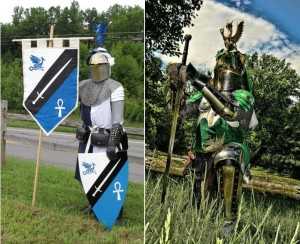 Swordfighting Demonstrations with Sir Edward the Blue Knight and Sir Brian the Green Knight. Sir Edward (Ed Toton of Leesburg, VA) and Sir Brian (Brian Ames of Pasadena, MD) are members of the organization ModernChivalry.org which is a network of modern knights dedicated to preserving and educating others on the rules of chivalry and code of knighthood. The knights will entertain Compass audiences with demonstrations of historical sword fighting intermingled with Q & A about their techniques, training, and weapons. Sir Edward is the founder of ModernChivalry.org and has been interested in swords, armor, and chivalry since his teen years. Both are frequent performers at area Renaissance fairs. They are appearing at Compass as a fundraising effort for the Make-A-Wish Foundation. Revelers at the Medieval Masquerade are encouraged to place tax-deductible contributions to Make-A-Wish Foundation in the wishing well. Demonstrations on the front lawn from 4:30 – 6:00 pm.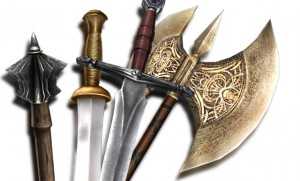 Medieval Armor, Weapons, and Artifacts. Hugh Gardner of Arlington will display an assortment of medieval artifacts and reproduction weapons and equipment such as armor, swords, helmets, bows, and arrowheads. Mr. Gardner has an extensive collection of military weapons and artifacts that he uses in his interactive history classes. Through his business, Illuminations, Mr. Gardner has taught specialized homeschool history classes throughout the area since 1996. He offers courses in the Dark Ages and Medieval era which include  the Roman way of war, the Celts,  Roman Britain and the "Age of Arthur," Early Christian Ireland, Saxon England, the Vikings, the Norman conquest of England, "Robin Hood," the rise of Islam, the Crusades, the Mongols, and the Scotland of William Wallace and Robert the Bruce. His expertise extends to ancient and medieval board games, the Book of Kells, and the Bayeux Tapestry. Mr. Gardner is a former US government military intelligence analyst in addition to being a historian and educator. Exhibit from 4:30 – 6:00 pm.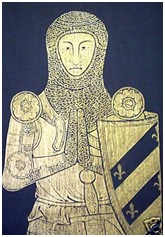 Brass Rubbings with Margaret Lidster of London Brass Rubbing Workshops. Margaret and her team will bring more than 40 reproduction brass plates for students to make authentic rubbings on black rag paper using metallic pigmented beeswax crayons. Her collection of brass plates comes from St.-Martin-in-the-Fields cathedral in London where brass plates embedded in the crypts marked the final resting places of medieval knights and their families. Images include knights, ladies, gryffons, unicorns, lions and other images transported directly from medieval graves! Brass rubbings and a history of the plates will go home with each child. Workshop from 4:30  – 6:00 pm.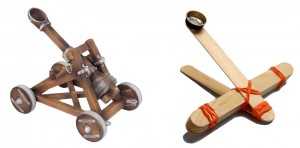 Storm the Castle Catapult Challenge. The engineering team from Ideaventions will guide students in the battle of the Dark Ages. Help defeat the medieval castle with catapults! Students will build craft stick catapults to aim and fire ping pong balls at a the rival castle. Students will hear about the engineering principles behind this medieval weapon as they design and build. Catapults will go home with each student. Challenge from 4:30 – 6:00 pm.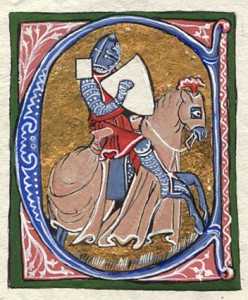 Illuminated Letters Painting.  Compass Hands-on-Art-History instructor Dolores Peck will guide students through the medieval art of painting Illuminated Letters. Students will hear about the historical and religious significance of the medieval craft of illuminated manuscripts as they paint their own illuminated letters. Studio from 4:30 – 6:00 pm.
Medieval Masquerade will be held at 2705 Hunter Mill Road in Oakton on the Compass campus. 
Tickets purchased in advance are $8.00 per person (adults and children over age 2 ) for Compass families or $10.00 per person (adults and children over age 2) for non-Compass families.
 Compass families are those with at least one child enrolled in Compass classes for fall 2014, and non-Compass families are any other homeschool family welcome to join us, but not enrolled in Compass classes this year.
Attendees who purchase tickets in advance will be entered in a drawing for prizes.
Same day and at-the-door admission will be $10.00 per person (Compass family) or $12.00 per person (non-Compass family).
Attendees are encouraged to dress up as knights, lords, ladies, kings, queens, jesters, or friars. Pirates, wizards and princesses or any other medieval interpretation are welcome!
Hot apple cider and edible fare will be for sale for dinner.
Event website: https://www.compassclasses.com/2014-medieval-masquerade/