American History Alive! The 1700s
Come face-to-face with famous Americans in American History Alive-the 1700s! Meet Patrick Henry, Benjamin Franklin, Thomas Jefferson, John Adams, Molly Pitcher, Martha Washington, and the Marquis de Lafayette. The American History Alive! series is a one-of-a-kind, weekly rendez-vous with key figures in American History. These characters are brought to life for students though engaging presentations by professional, costumed, living history interpreters. Students will connect faces, personalities, humor, and fun facts with influential characters in America's history!
Living history interpreters are the professionals employed by museums, historical sites, and conferences. They have typically studied their historical character for years and tell their stories and contributions in a compelling first-person narrative. Presentations are conversational in style, often involve the audience, and conclude with spontaneous audience Q & A. Watch the historical actors answer 21st century questions in character with period replies!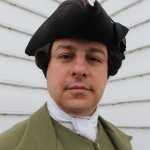 9/9/21: Patrick Henry as portrayed by Charles Wissinger of Richmond. Mr. Wissinger is the casting director and coordinator for the team of founding fathers at St. John's Church in Richmond, where the group re-enacts the Second Virginia Convention of March 1775, including Mr. Wissinger's portrayal of Henry delivery of the famous "Give me liberty or give me death speech." He has studied and portrayed Patrick Henry for 14 years. He is a professional actor with a BA in Theatrical and Performing Arts, and his experience spans stage, film, television, and commercials including appearances on the American Heroes Channel, the Military Channel, and the History Channel as well as historical sites, national parks, and special events. Mr. Wissinger combines his talent for acting with his love of history in this research and interpretation of historical figures. Mr. Wissinger previously appeared as Henry for Compass in September 2017.
9/16/21: Benjamin Franklin as portrayed by Robert Devitis of Philadephia, PA. Mr. Devitis has portrayed Benjamin Franklin for 10 years. He conducted years of research before stepping out as "The First American." He can regularly be spotted portraying the scientist, inventor, and statesman around Philadelphia at historic sites such as the Liberty Bell, colonial Christ Church, and Independence Hall. He portrays Franklin at corporate functions, charitable events, schools, libraries, museums, and special events. He is known for engaging audiences with Franklin trivia questions. Interestingly, Mr. Devitis is also known for his specialized, walking tours of Philadelphia which are chock full of historical details and "personal" Franklin tidbits, and he is also regularly invited to appear at weddings which feature a Philadelphia flair.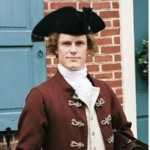 09/23/21: Thomas Jefferson as portrayed by Steve Edenbo of Philadephia. Mr. Edenbo has portrayed Thomas Jefferson since 2001 at such venues as The National Archives in Washington, DC, and Independence Hall, the Declaration House, and Independence National Historical Park in Philadelphia. He has been featured on the History Channel and has appeared on Comedy Central's "The Colbert Report". He has shared Jefferson's life and legacy at the Jefferson Memorial in Washington, D.C., and institutions such as the Smithsonian, Sons and Daughters of the American Revolution, American Legion, the VFW, the US Mint, and the University of Virginia. Mr. Edenbo earned a BA from Dickinson College, where he focused on research and writing with additional experience in theater, improvisation, and voice. Mr. Edenbo previously performed at Compass in October 2012, September 2014, and September 2017.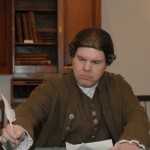 9/30/21: John Adams as portrayed by Peyton Dixon of Kingston, NJ. Mr. Dixon has portrayed John Adams since 2000. He discovered the world of first-person interpretation as an extension of his more than 25-years experience as an actor and performer and his passion for American History. He has portrayed Adams at venues such as Independence Hall in Philadelphia, Federal Hall in New York, and the National Archives in Washington, D.C. He has also taken Adams to television with A&E's biography of John Adams and on PBS with the documentary "First Freedom, the Fight for Religious Liberty." He also had the opportunity to portray Adams in the live theater performance of "1776." He has performed in over 40 states. Mr. Dixon graduated from the DuPont Manual/Youth Performing Arts School of Louisville, Kentucky, and earned a Bachelor of Fine Arts in Theatre Performance from Otterbein College of Westerville, Ohio. His goal is to bring to light the accomplishments as well as the imperfections of John Adams, and to reveal the very real man beneath the public persona. Mr. Dixon previously appeared at Compass in October 2014 and October 2017.
10/07/21: "Molly Pitcher" Mary Ludwig Hays as portrayed by Kim Hanley of Philadephia. Kim earned a Bachelors of Fine Arts from the State University of New York. After moving to Philadelphia to pursue an acting career in 1997, she realized she could combine her passions for history and theater as a historical character in outdoor productions in Philadelphia's historic district and in Independence National Historical Park. She became involved with the American Historical Theatre and found "historical character re-enactment civically worthwhile, intellectually challenging, and artistically fulfilling." Kim has continued to refine her dramatic skills in national tours and stage productions. She trained in classical ballet and performs in vocal ensembles as a soprano. Using her associates degree from the Fashion Institute of Technology in New York, she designs and creates all of her historical outfits as well as the costumes of other well-known historical interpreters. In addition to Mary Lugwig Hays, Kim has studied and performs several other prominent women in American History. Her program repertoire is known as Remembering the Ladies. Ms Hanley first appeared at Compass as Annie Oakley in January 2013 and Molly Pitcher in October 2014 and October 2017.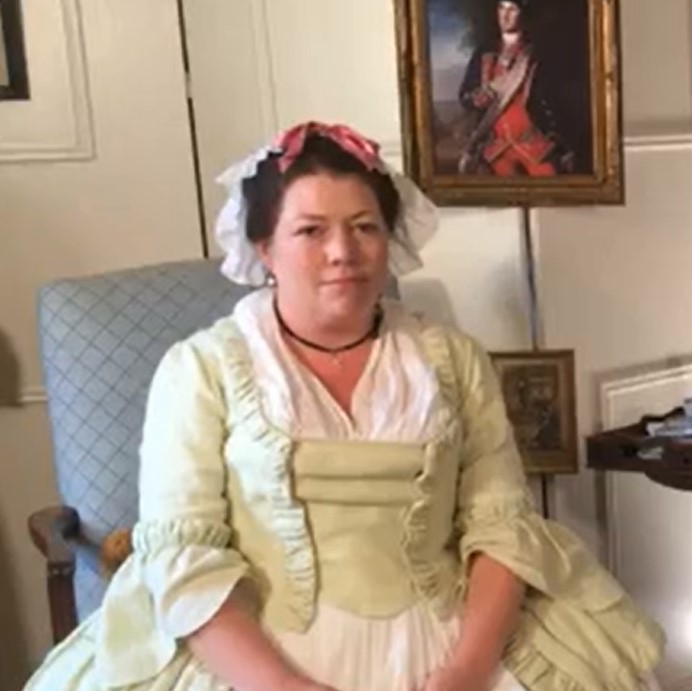 10/14/21: Martha Washington as portrayed by Elizabeth Keany of Alexandria, VA. Ms Keany has portrayed Martha Washington full time at Mount Vernon since 2018. Her living history portrayal focuses on lessor known early years of George and Martha Washington, before their rise to "fame." Her portrayal is set in 1765 at which time she tells stories of her childhood, her first marriage to Daniel Custis, life as a young widow, and second union with Col. George Washington. Keaney's Martha Washington shares insights into Washington's role in colonial Virginia, work as a surveyor and planter, and soldier during the French and Indian War. She tells of the impacts of actions by England that set the stage for the future revolution. Ms Keaney has also worked as an interpreter at the Frederick Douglass National Historic Site, at Historic St. Mary's City, and at Roanoke Island Festival Park. Her passion for history comes out in her work with the Montgomery County Historical Society and as Assistant Educator at National Museum of Women in the Arts. She earned a Masters degree in Museum Education at the George Washington University, a Master of Arts degree in Irish Studies at the Queen's University in Belfast, and a Bachelor of Arts at St. Mary's College of Maryland. . Ms Keany previously appeared as young Martha Washington at Compass in September 2014.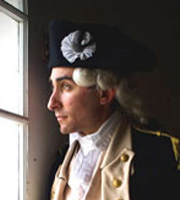 10/21/21: Marquis de Lafayette as portrayed by Benjamin Goldman of Washington DC. Mr. Goldman has appeared as Lafayette since 2007. He has performed at Valley Forge and Independence National Historical Parks and for audiences at venues across seven states and the District of Columbia. Mr. Goldman made a special appearance at the White House for former presidents George W. Bush and Nicolas Sarkozy of France. He also worked for several years as a storyteller with Historic Philadelphia, Inc, where he wrote and sometimes translated interpretive stories into French. He earned a B.A. in French and Dramatic Literature. Mr. Goldman has previously appeared at Compass in September 2012, November 2014, and October 2017.
Register for American History Alive! and all other Compass classes online! For second quarter, watch for visits from Alexander Hamilton, Dolly Madison, John Tyler, Frederick Douglass, and others.